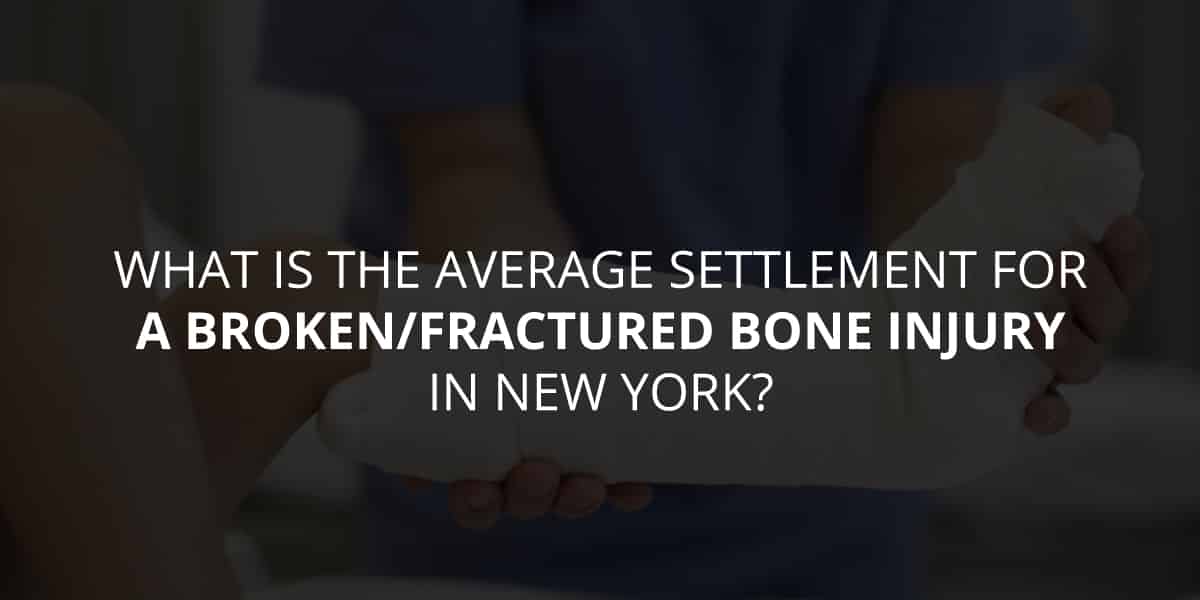 Broken or fractured bones tend to be one of the most common types of injuries associated with car accidents and within premises liability cases, but no matter how your injury occurred you'll undoubtedly be wondering how much your case is legitimately worth.
The overall answer to calculating an average settlement isn't simple, and there will always be many factors that come into play when you and your legal team determine your case's value. On this page we're going to go over all the factors associated with calculating a broken bone injury settlement, so if you or a loved one has suffered a broken/fractured bone in any type of injury you should contact us for a free case review so we can determine your best course for legal action.
How Cases Are Valued
There will always be many distinct factors associated with any injury case, and calculating an estimated settlement value isn't always so cut and dry. A plaintiff and their counsel will always need to take a potential jury into consideration and what they would potentially award someone for a similar injury settlement.
You'll also need to take into consideration how much you think the defendant is ultimately willing to pay for their negligence, and this particularly pertains to the situation in which both parties agree upon a settlement value prior to any trial.
The two main factors associated with these types of personal injury cases include the severity of the injury and the likelihood of a defendant being found liable for the accident's damages if the settlement is not resolved and the case goes to trial. 
The severity of the Injury
There are quite a few different types of broken bone injuries that may occur within a personal injury case, including the following:
Hairline Fracture:

This type of fracture is also referred to as

stress fractures

, which entail small cracks or slivers within an injury victim's bone(s). These fractures tend to be pretty painful, and there are many instances in which an individual may suffer several stress fractures and not actually realize it.

Compound Fractures:

This type of fracture occurs when an accident victim's bone is cracked in multiple places. These are always very serious injuries that will require months of medical care and rehabilitation to fully heal from.

Displaced Fracture:

This type of bone fracture occurs when a small fragment of an individual's bone is torn away.

Some other common fractures including

avulsion, spiral

and

transverse

fractures. 
Common Broken Bones in Personal Injury Cases
Broken bones are always going to be within the realm of possibility within any kind of auto accident collision or other types of catastrophic injury cases. The following bones are commonly broken within certain injury cases:
Car Accidents
Collarbone

Ribs

Femur

Pelvis

Vertebrae

Radius

Sternum
Slip and Fall Injuries
Elbow

Wrist

Hip

Shoulder

Spinal cord and back
The Permanence and Overall Healing Time of the Injury
There are many instances in which an injury victim doesn't fully recover, and this typically relates to chronic pain and other permanent disabilities that require lifelong care. An injury settlement's value can only be increased when services like nursing care, home cleaning and transportation services are a necessity for the accident victim.
But even in less serious cases, the victim's overall recovery/rehabilitation time is a consideration in terms of calculating the settlement's value.
Lost Wages or Loss of Future Income
Any loss of income will play an important role in determining a broken bone injury case's settlement value, and this refers to direct loss of existing wages as a result of an injury and any loss of future earning capacity. In these instances, we'll utilize the expertise of vocational experts to help determine a reasonable estimate into what an individual and their family may lose in the future as a result of a serious injury that holds someone back from their current career. 
The Defendant's Likelihood of Being Found Liable
This is a major factor in determining a settlement's value because it's what gives plaintiffs the leverage they need to receive a higher settlement value. The available evidence within an accident case will be crucial within this factor, and it's partly why having an experienced legal team on your side comes in handy.
When potential damages are very high, there's no doubt about it that a defendant will be ultimately less willing to settle the case prior to trial when there's little to no evidence proving their fault.
On the other hand, when there doesn't seem to be a sufficient amount of evidence a plaintiff will typically be more likely to settle for a lower settlement value as opposed to risking everything at trial. 
Other factors taken into account include:
All past and future medical costs

Pain and suffering (and other non-economic damages)
Settlement Values Always Differ
Deciphering the average settlement value for broken bone injury cases in New York is almost impossible simply because each and every personal injury case is unique. Broken bone cases also are known to differ rather dramatically, and can range from tens of thousands of dollars all the way up to tens of millions!
But when it comes to receiving your rightful compensation, broken bone victims will always be entitled to recovering their losses for the following:
All medical expenses (past, present and future)

All rehabilitation costs

Any life care costs associated with permanent disabilities

Lost wages and lost future earning capacity

Other non-economic damages, including pain and suffering
Contact Us Today For A Free Case Review
If you or a loved one has suffered any kind of broken bone injury as a result of someone else's negligence, you will be entitled to your full, rightful compensation for the given damages associated with your injury. Determining your injury's value isn't something you can do without the assistance of a legal expert, which is where we come in to help!
Contact us today for a free case review so we can go over the details of your injury and begin the necessary initial steps towards your full, rightful compensation.