Long Island Car Accident Lawyer​
Long Island Car Accident Lawyer
When you've been injured in an auto wreck, you need to know how to get the compensation that will pay for your recovery and get your life back on track. Work with a Long Island car accident lawyer to get all the compensation you're entitled to. The attorneys at Siler & Ingber, LLP offer free case evaluations for any victim that has sustained car accident injuries.
Get Compensation for Your Injuries and Crash Damages
While an initial settlement offer from the insurance company might only cover your immediate needs, your Long Island car accident lawyer will understand your long-term needs and the money necessary for your care. It's important to remember that insurance companies are for-profit businesses looking to reduce expenses wherever possible. Insurance adjusters are not your friend and you'll want someone in your corner who can advocate for the best possible settlement.
When valuing your accident claim, we will make certain that the compensation you receive covers all of the financial expenses incurred by the wreck and the damage done to your quality of life:
Current and future medical bills for medical treatment
Car repair or replacement costs
Physical or emotional therapy
Lost wages and income
Pain and suffering
Emotional distress and disfigurement
Lost enjoyment of life
Laws in Long Island Area That Can Affect Your Case
When you work with a Long Island car accident lawyer from our firm, the first thing we will do is review the facts of your case and begin an investigation to determine who was responsible and how to proceed.
Your Long Island accident lawyer will know how significant the damage caused by your collision can be and how the bills can pile up—and keep coming—afterward. We will work to make sure all of the financial hardships imposed by your accident are accounted for, and we will work to get you the settlement you deserve.
The statute of limitations for personal injury cases in Long Island is three years. If you've suffered injuries due to a car accident caused by someone else's negligence, it's important not to let the statute of limitations on your injury claim run out.
Questions to Ask a Lawyer After a Car Accident
When you've been involved in an auto collision, it's normal to feel confused. You likely have many questions regarding your car accident case and want to do everything you can to get the financial help you deserve.
Working with an experienced car accident lawyer is one of the best ways to streamline your efforts after your crash. But what are some good questions to ask a lawyer after a car accident?
The personal injury attorneys at Siler & Ingber, LLP are highly knowledgeable in this area of the law, and we are here to offer our assistance. Below, we highlight some crucial topics to cover with your attorney.
Which Pieces of Evidence Do I Need?
This is one of the most important questions to ask a lawyer after a car accident. Compiling evidence is a crucial part of the claims process. With the right evidence, your attorney will be able to prove your lack of liability in your crash, giving the insurance company no choice but to offer the maximum compensation amount.
As such, your attorney may need photographs of the scene of the crash, a copy of the police report, medical records, witness statements, and a statement from your doctor outlining the severity of your injuries, if you sustained any. Document as much as you can at the scene of the accident if you are able to do so.
Many victims are worried about recovering compensation after their collisions, and for good reason. Between medical expenses, property damage, and being forced to take time off of work to recover, your collision could leave you in a severely compromised financial state.
While a personal injury lawyer may not be able to give you an exact amount during the initial filing phases, a lawyer can help you determine which benefits you're eligible to recover, such as pain and suffering, loss of earning capacity, and medical care. An auto accident attorney will also do everything in their power to obtain maximum compensation from the insurance company—even if it means going to court.
New York is a no-fault state, which means you won't be seeking compensation from the other driver unless your damages or injuries exceed certain limits.
However, there are many cases in which the insurance company is unwilling to cooperate with victims and provide them with the money they deserve. In these cases, you certainly have the right to enlist the services of a lawyer and bring the insurance company to court.
Who's responsible if dangerous road conditions caused my crash?
If something like a pothole, improperly made shoulder or uneven lane caused your wreck, then the government agency in charge of maintaining the road could be liable. Depending on the circumstances, a road construction company might also be at fault.
Who do I seek compensation from if I was hit by a rideshare driver?
Cases involving Uber and Lyft drivers can be complicated because you might need to file your claim against either the driver or the rideshare company, but which one will depend on the status of the rideshare app at the time of the wreck and whether the driver had a paying ride in progress.
What happens when I've been injured in a wreck with an uninsured driver?
If you have the appropriate coverage, an uninsured driver claim can provide you with compensation for some of your damages. This requires caution as even your own insurance company will try to lowball your settlement amount. You might also have the option to sue the other driver directly, but we'll first need to determine if the driver has the assets to provide you with compensation.
How long do I have to file?
Various factors can affect how long you have to file a claim for compensation after a Long Island automobile accident, but you will generally have three years from the date of the accident to file your personal injury claim.
Am I at fault for a single-car crash?
Not necessarily. While it may initially seem like there's no one to blame but yourself, other parties could be held responsible for your Long Island single-car crash.
For example, if the road was unsafe and caused your crash, you could sue the agency responsible for maintaining that road. Likewise, you could name a parts manufacturer in your claim if a defective part on your car caused your crash.
What should I tell the insurance company after an accident?
How long will it take to get my settlement after an accident?
A personal injury claim from an accident has many factors involved that can dictate the time frame of receiving money if your case is won. On average a personal injury case in Long Island can take anywhere from a year to several years depending on the type of injuries and damages your accident attorney is seeking on your behalf. The period of time also depends on the court's schedule. Recently with NY courts being closed due to the pandemic, many civil actions have been delayed.
How long after an accident can you go to the hospital?
Some car accident victims do not immediately feel pain or injury from a car accident and refuse medical care. However, pain from an injury sustained in an accident can sometimes be delayed. This is often the case for soft tissue damage. Soft tissue injuries are defined as parts of the body other than bone. Damages to muscles, ligaments and tendons are considered soft tissue. If you are pursuing legal action with a personal injury claim, in most cases, insurance companies consider it reasonable to obtain medical care within 72 hours of the accident.
What if I have more questions?
If you have more questions, the attorneys at Siler & Ingber, LLP have more answers. To get in touch with a Long Island car accident attorney, give us a call at 1-516-294-2666 or fill out the form below.
Any type of wreck can be extremely unsettling. A Long Island car accident lawyer from our office will have experience representing accident victims of all types of accident cases and identifying fault, including any of the following:
Rear-End Collisions – Rear-end collisions often occur when one car is following another too closely, or when the car in front makes a sudden stop. These accidents can cause significant damage to vehicles, and drivers of rear-ended cars also frequently experience whiplash.
T-Bone Accidents – Side-impact accidents occur when the front of one vehicle strikes the side of another. Common sites of T-bone accidents are intersections where one vehicle failed to make a proper stop.
Sideswipes – Sideswipe accidents occur when the sides of two cars collide. This may happen if an inattentive driver drifts into another lane, for example. It's common for distracted driving to be involved in these wrecks, although many other factors, such as poor road conditions could be to blame.
Head-On Collisions – These collisions occur when the front ends of two vehicles collide, and they are especially dangerous. Head-on collisions frequently result in significant injuries, such as spinal cord or traumatic brain injury—or even death.
Rollover Accidents – A car with a high center of gravity, such as a van or an SUV, is more likely to experience a rollover accident, during which a vehicle loses its grip on the road and rolls over, possibly several times. While defective vehicle or road design is sometimes to blame, a rollover could just as easily be caused by one driver forcing another off the road.
Identifying What Caused Your Car Accident
No matter the type of accident you've suffered, you shouldn't have to deal with the physical, emotional, and financial aftermath alone if another person's negligence caused your crash and subsequent injuries. Your car accident lawyer from Long Island will identify all of the negligent parties involved in causing your wreck. This is a crucial step, as recovering full compensation in a car accident claim requires naming them all in your claim.
All potential causes will need to be considered during the investigation of your car accident case, such as those described below:
Drunk Driving – In Long Island, 1.4 percent of people report driving after having consumed too much alcohol. Drunk driving is a seriously negligent behavior and might qualify you to receive punitive damages to punish the drunk driver.
Distracted Driving – Any driver who is engaging in behavior that takes his or her mind off the road is a distracted driver. These behaviors may include eating, texting, changing the radio station, arguing with passengers, and any number of other things.
Drowsy Driving – Although drowsy driving is unquestionably dangerous, it is alarmingly common and is often present in crashes involving commercial trucks.
Speeding – Speeding is another common yet undeniably dangerous behavior. It is also a decision made by the other driver, meaning that proving it will go a long way toward proving your case.
Contact a Long Island Car Wreck Attorney
While the days and weeks after a car accident can be overwhelming, there is hope. Contact a Long Island car accident lawyer with Siler & Ingber, LLP today and begin the process of getting the compensation you deserve. Call 1-516-294-2666, or use the online contact form on this page to schedule a free consultation.
Motor Vehicle Accident Statistics
The attorneys at Siler & Ingber compiled data from 2014 to 2016 on motor vehicle crashes on Long Island. The first set of charts shows the number of motor vehicle accidents and fatalities in Suffolk and Nassau counties over the 3-year period.
Motor Vehicle Accidents in Nassau and Suffolk Counties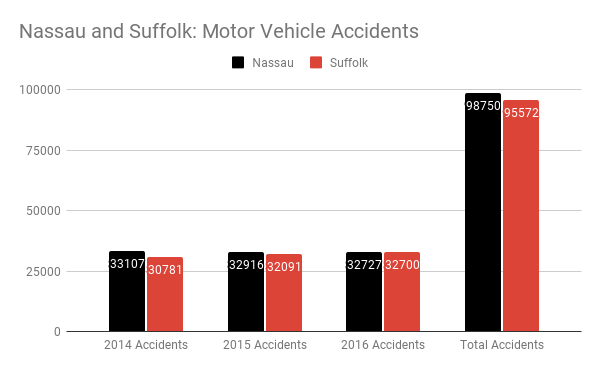 Motor Vehicle Accidents in Nassau and Suffolk Counties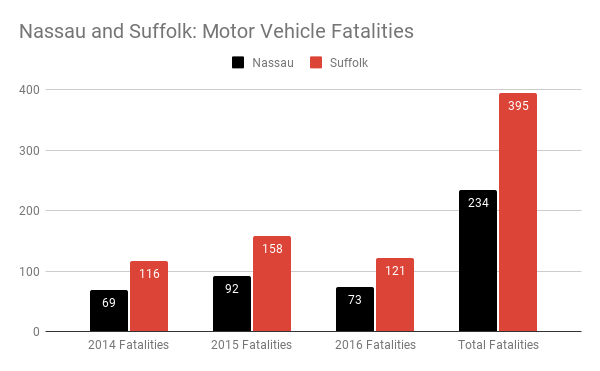 As you can see, the amount of accidents did not vary much between 2014 and 2016, but they did decline. This could possibly be attributed to new laws on distracted driving or more law enforcement assigned to these county roads. For the number of fatalities, there was a large increase from 2014 to 2015, but luckily, the amount decreased in 2016. However, even one fatality is too much.
Comparison: Total Number of Motor Vehicle Accidents and Fatalities in Suffolk and Nassau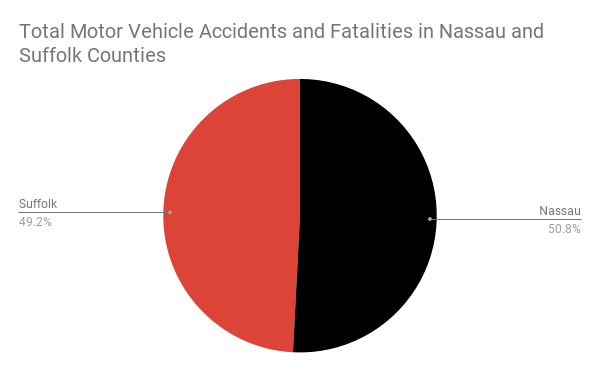 Long Island Motor Vehicle Accidents and Fatalities by Day of the Week
The following two charts show the number of motor vehicle accidents and fatalities in Suffolk and Nassau counties by the day of the week. You might be surprised by some of the results we found.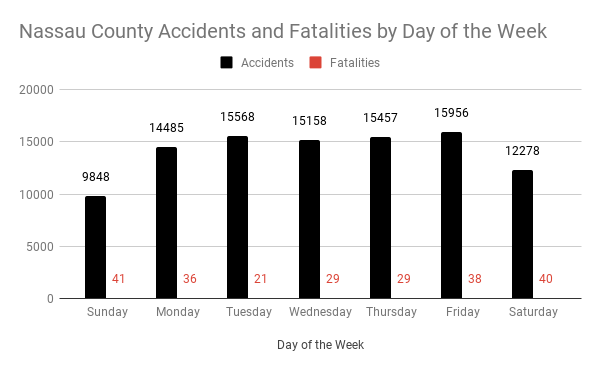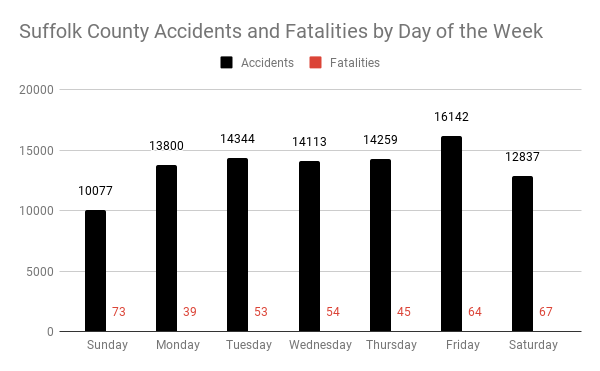 Motor Vehicle Accident Statistics: Crash Descriptors
The chart below depicts the percentages of each type of accident: injury accident, fatal accident, property damage and injury accident, and property damage accident. The majority of motor vehicle crashes in Suffolk and Nassau counties resulted in only property damages.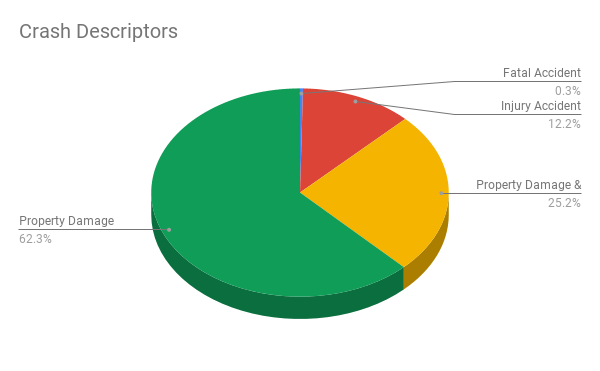 We're ready to fight for you. We're ready to be your ally. And we're ready to start right now. Don't waste time, contact our law offices today.
Serious injuries don't happen on a 9-to-5 schedule, which is why we are always available to help if you have been hurt. Our team is available around the clock to provide the support you need.