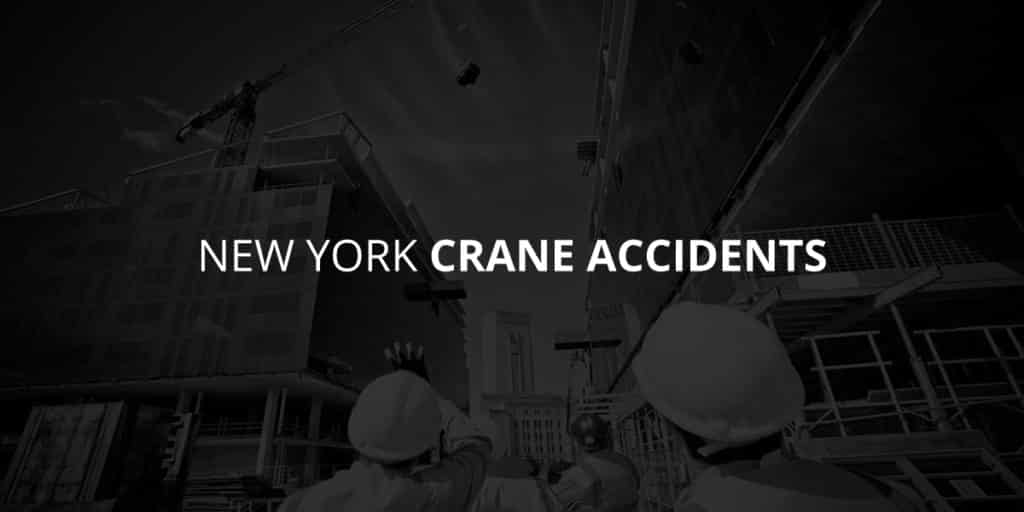 Crane collapses and other crane accidents are always very serious, and these types of situations account for numerous injuries and deaths each year throughout New York. There are a variety of reasons why these types of accidents can occur, but there typically is always some kind of negligence, carelessness or a significant lack of supervision involved with these situations. This includes negligent crane design by the crane's manufacturing company and the general lack of proper hazard warnings provided by a crane manufacturer.
Our team of attorneys at Siler & Ingber, LLP are among the very best in all types of personal injury cases, and we've helped countless construction workers and their families throughout New York in terms of recovering the rightful compensation for their losses and overall damages.
The most common reason why crane accidents occur is through the improper training of crane operators and maintenances workers, but we'll always work diligently in terms of determining the responsible parties for any crane accident by figuring out the following:
Whether or not the crane training provided a thorough evaluation of the crane's general limitations, operation system characteristics, and potential hazards when improperly used.
Whether or not the maintenance personnel and crane operators were sufficiently directed and supervised.
Whether or not the crane's manufacturing company clearly provided warnings about the dangers involved with using their product, and if the general design of the crane helped to avoid these known hazards as much as possible.
Whether or not the crane owner adequately maintained the crane.
Whether or not the crane owner obtained a written policy that required regular inspections and reporting of defects for immediate corrections.
Whether or not the inspection and maintenance specifications provided by the crane's manufacturer were followed.
Whether or not the crane's equipment was inspected prior to operations on a daily basis.
Whether or not there were regular inspections conducted of the crane's pulleys, cables, boom, sheaves, and boom stops.
Causes and Prevention Methods of Mobile Crane Accidents
One of the most common causes of mobile crane accidents is when the crane attempts to carry a load that's simply too heavy for the machinery. This is why it's crucial that no load that exceeds the crane's rated capacity should ever be lifted.
Workers often have miscommunication errors on construction sites and when using cranes in all capacities. This is why its' always best to establish standard operating signals that are ubiquitously agreed upon and utilized during all times that the crane is in operation. Typically there will be a designated signalman who provides direct signals to the crane operator, but in certain situations, it may be required to utilize two signalmen to ensure the operator receives signals in a timely fashion.
Another common cause of mobile crane accidents is the general inappropriate use of the crane's equipment and faulty installation. There are countless prevention methods for these types of accidents, including:
Using mats when operating on soft ground
Using adequate slings determinant upon the specific load
A foreman determining the proper sling before a lift is made
Using guide ropes and taglines for loads that may swing
Taking the proper precautions to protect workmen and other nearby structures
Ensuring the crane's hook is directly over the load to minimize strain
Utilizing a closed hook or shackle when using swinging buckets
A very serious hazard involved with all crane operations is the general contact with electrical power lines. The prevention methods for this common crane accident cause include:
Maintaining a minimum of six feet between a boom and power lines
Removing any interfering power lines during construction if possible
Utilizing a safety guard at all times
Lowering a boom to the ground overnight
Common Tower Cranes & Unsafe Installations
There are three fundamental types of tower cranes, including:
Climbing Cranes
Stationary Cranes
Traveling Cranes
A contractor is always going to be the one who installs the foundations for all three types of tower cranes, and the manufacturer will provide the general design and necessary basic information. This includes information like the horizontal and vertical loads, overturning and swing moments, and any other added variables that a construction company may need to know pertaining to the crane's foundation.
A whole array of safety controls is necessary when using tower cranes, and the manufacturer is responsible for many of these safety controls and must provide instruction logs and manuals.
Before any tower crane installation is conducted the contractor must thoroughly review the construction site for a whole variety of hazards, and there must be professional coordination between contractors and operators if two or more tower cranes are to be installed at the same location.
Negligent Inspection and Maintenance
The manufacturer's specifications must always be met when it comes to maintenance and inspection procedures, sequences and general frequencies. There should always be a full test of every function of a crane once it has been erected or extended prior to the actual operation. Test weights typically are used during this time.
Test and inspection logbooks should record the results of all tests and inspections on every construction site, and theses records must include comprehensive dates, findings and the specific actions that were taken.
Siler & Ingber, LLP consists of some of the very best New York workplace injury lawyers, and our expertise shines brightly within crane accident cases. If you or a loved one has unfortunately suffered from an injury or died as a result of a crane accident, we'll be able to help you and your family obtain your rightful compensation for the full amount of your damages.
Contact us online to get a free case review of your specific situation, or give us a call directly at (516) 294-2666 for more information as to how we can begin taking the necessary first steps to assist you.