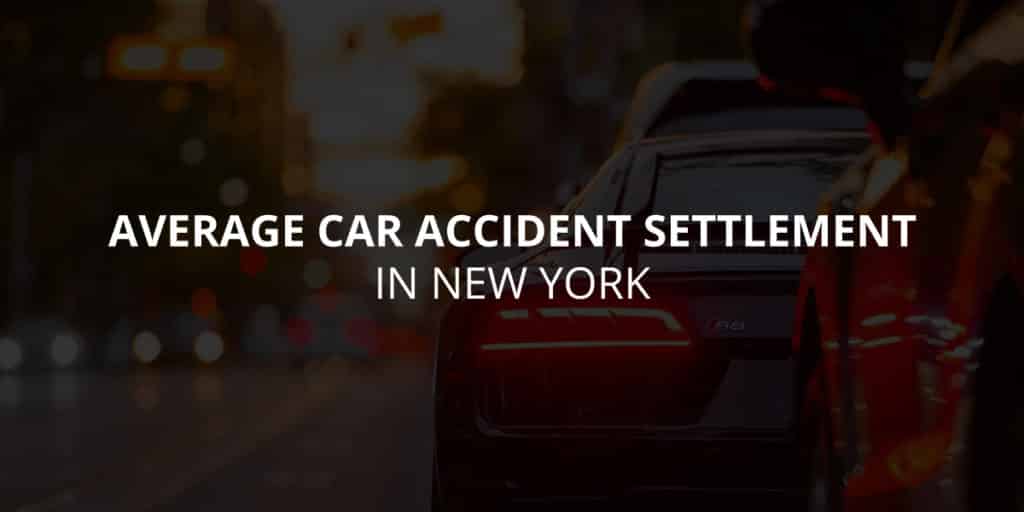 It's always a natural reaction to think about your potential settlement expectations when you've sustained any kind of injury as a result of a car crash, but deciphering the exact value of any given car accident settlement is a lot more complicated than most people would think. There are several damages and factors that come into play when determining the value of any personal injury settlement, including the following:
The severity of the sustained injuries
The determined value of property damage
Medical expenses
Lost wages
Pain and suffering
The recklessness of the negligent driver
Wrongful death
And much more…
There are many situations in which a car accident settlement's value is determined by the general sympathy a plaintiff receives from a jury, which is where our team of personal injury specialists comes in to help clearly demonstrate your claim's value by showcasing how any given negligent driver significantly impacted your life.
New York's No Fault and Comparative Negligence Rules
New York is one of the only states that follow "no fault" insurance and accident compensation laws, which essentially means that you'll have to initially go through your own insurance provider to file a claim for your injuries that result from a car accident.
But there are certain circumstances that allow car accident victims to file a claim against another negligent driver's insurance company, and even a lawsuit if necessary. Some of these circumstances include the following:
Significant disfigurement
Broken bones
Permanent impairment of a limb or body organ
Significant limitation of a body's system or functionality
Full disability for 90 days or more
Any of these additional claims against a negligent driver usually will lead to more non-economic damages claims, but in order to be successful on these added claims the plaintiff will be required to prove the other driver's level of culpability. This is because New York is a "pure comparative negligence" state, which essentially means that a jury or judge will always be comparing and calculating percentages of fault when a car accident case goes to trial.
So, it's crucial that all New Yorkers fully understand the fundamental process that goes into the establishment of a car accident settlement before understanding the overall factors that affect a settlement's value, which we'll discuss further below.
Factors that Affect a Car Accident Settlement's Value
All car accident settlements that go to trial will consider both economic and non-economic damages, and sometimes a plaintiff will receive punitive damages as well. Punitive damages are viable when the negligent driver who caused the plaintiff's injuries acted in such a reckless manner that they showed complete disregard for the plaintiff's safety.
Determining the average car accident settlement in New York is by no means easy, but we can fully acknowledge that the following questions are the bare minimum that a judge or jury will ask while deciphering a settlement's value:
Which party caused the accident? This may seem obvious to a plaintiff, but it's important to remember the fact that New York is a state that follows pure comparative negligence laws. A judge or jury can ultimately reduce your settlement value by a certain percentage of blame that they say was your contribution to the accident's occurrence.
What is the exact amount of damage to your property? This will pretty much refer to the repair or replacement costs for your vehicle, as well as any personal items inside your car at the time of the crash.
What are your medical costs? Your medical costs will literally mean everything that was associated with your car accident. This commonly includes an ambulance ride, doctor/surgeon fees, adaptive equipment, prescriptions, physical therapy and much more.
What is the severity of your injuries? The amount of your settlement will largely depend upon how severe your injuries are, and if you've unfortunately suffered any kind of permanent injuries then you can expect to see a much larger value. Minor injuries typically will receive less, but there are some exceptions to this like chronic pain that requires long-term medical treatment.
How much medical treatment is required? This is where it's important to have a medical expert help your case by speaking on your behalf, because there are so many variables that come into play when it comes to the amount and overall length of medical treatment that's necessary after a car accident. Sometimes a victim will only need to see a doctor a few times, while others have to undergo care for their whole lives.
What are the monetary limits on the other party's insurance policy? There are many instances in which an insurance company will claim that they don't have the funds to pay the rightful settlement that you deserve, which is why all of our car accident specialists are trained and experienced in uncovering additional revenue sources that insurance companies typically don't disclose.
What treatments did you receive? There is a stigma that insurance companies will try to decipher what types of medical treatments are necessary, and what aren't. This is particularly important when it comes to chiropractic care and other alternative medical practices.
These are just some of the important factors that are associated with deciphering a car accident's settlement value, and when you contact us for a free case review we'll be able to delve deeper into the finer details of your case.
Average Car Accident Settlement Amounts
As you've probably gathered from the information within this page, it's very misleading and almost impossible to calculate the average car accident settlement in New York because cases vary dramatically due to all sorts of significant factors.
Over the past 20+ years, our team has been able to secure tens of millions of dollars in car accident settlements, including the following examples:
$10,000,000 when an ambulance passenger was struck by an 18-wheeler and ended up losing two limbs
$3,100,000 in a car accident in which a commercial vehicle rear-ended one of our clients, which required her to get a lumbar fusion surgical procedure
$2,000,000 when a client of ours was rear-ended in Suffolk County at a stop sign and ended up sustaining a herniated disc in his neck that required cervical surgery
$925,000 in a Nassau County car accident case in which our client suffered from a herniated disc that resulted in lumbar surgery
$700,000 when a client was T-boned and several people within the vehicle endured whiplash injuries, as well as other major injuries that our client endured
These are just a few examples of the types of car accident settlements we've been able to support our clients with throughout the years, and we are more than confident that our team will provide you with the case results you're looking for with your specific case.
Contact us today for more information regarding car accident settlements so we can begin the necessary initial steps towards your rightful compensation.