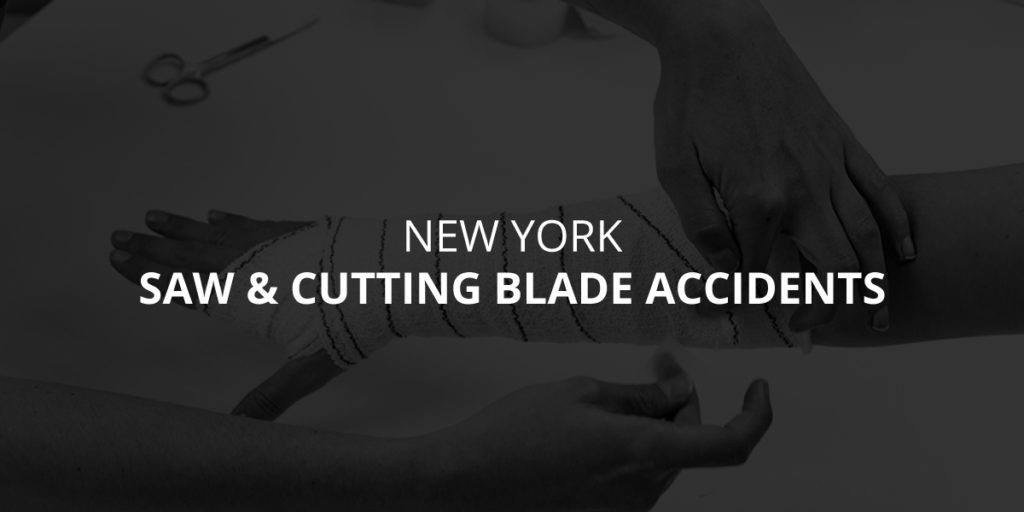 About one out of ten construction workers suffer from a long-term or permanent disability injury, and unfortunately injuries from cutting blade and saw accidents are one of the most frequent construction worker injuries throughout New York. These types of accidents many times result in serious hand and feet injuries, as well as the amputation of fingers. Sometimes cutting blade or saw accidents are so severe that they prevent construction workers from ever working again.
There's no denying how integral sawing and cutting is to all aspects of construction, which is why these types of injuries are so common. Although all construction workers are aware of the inherent dangers that cutting tools and machinery pose, even the most experienced construction workers can be injured while working with bladed machinery.
At Siler & Ingber, LLP, we understand just how quickly your life can change as the result of a serious accident, and we handle countless personal injury cases involving power tools for construction workers and within other settings. If you or a loved one has suffered losses or harm as a result of a saw or cutting blade injury, our team of construction accident attorneys can assist you in navigating the necessary steps towards receiving your rightful compensation.
Dangerous Equipment Leads to Serious Injuries
Power-driven saws are used for all sorts of purposes on construction sites, including cutting through materials like metal, wood, concrete and so much more, which is why they are always present on all construction sites. Unfortunately, saws and cutting blades generally pose significant risks to everyone involved on construction sites, including anyone who's simply traveling by a construction site.
Every cutting blade injury case is unique in terms of the circumstances and machinery that's involved, but the most common types of injuries in blade and saw accidents include the following:
Amputation injuries (finger(s), hand, toes, etc.)
Severe disfigurement, lacerations, and disabilities
Eye injuries and/or loss of vision
Burn injuries
Traumatic brain injuries
Falling objects
Electric shock
Slip and fall injuries
Fatal injuries/wrongful death
Common Causes of Saw Injuries on New York Construction Sites
Cutting accidents of all types happen due to an entire array of reasons, including improper saw usage, improper maintenance, using damaged or defective blades, and much more.
The most common saw types that create construction site injuries include the following:
Table-mounted circular saws — Table saws are typically utilized for any type of straight sawing, and the most common injury is a result of the saw operator's hand(s) coming too close to the spinning blade while maneuvering the material that's being cut. Another common cause of injury with table saws is when the blade "kicks back" any type of material into the worker's body or face.
Skill saws — Skill saws are handheld circular saws that pose even more hazards due to their portability. The versatility of this particular power tool is what unfortunately makes it very likely to cause user injuries. Many times the spinning blade may not be adequately guarded, which can lead to the blade striking a worker all throughout the body and potentially leading to fatal consequences.
Band saws — Band saws utilize flexible blades that run between pulleys, and injuries are much less prevalent with band saws as opposed to table saws. But what's unfortunate about band saws is that almost all the injuries with this type of saw involve direct hand contact with the moving blade.
Jigsaws — Jigsaws move rapidly up and down across a cutting surface, but if the saw isn't properly guarded a worker can very easily suffer finger and hand injuries while cutting or simply removing debris from the table.
Failure to Maintain Guards on the Saw
The failure to maintain guards on a construction site saw is by far one of the most commons causes for cutting accidents within New York construction sites. The New York State Department of Labor has recognized the inherent dangers of unguarded power saws and has since created a specific Industrial Code addressing this issue.
Industrial Code 23-1.12(c) specifically says,
"Every portable, power-driven, hand-operated saw which is not provided with a saw table, except chain saws and circular brush saws, shall be equipped with a fixed guard above the base plate which will completely protect the operator from contact with the saw blade when the saw is operating and with a movable self-adjusting guard below the base plate which will completely cover the saw blade to the depth of the teeth when such blade is removed from the cut."
Who Should be Held Legally Responsible for Cutting and Saw Accidents?
The severity of saw accidents tend to lead to costs that aren't fully covered by workers' compensation, and for the most part employees in this situation cannot sue their employer. But, there are situations in which victims of saw accidents are eligible to file third-party lawsuits against any specific parties who did, in fact, lead to the causation of the injury.
Some of the individuals and entities that can potentially be held legally liable for construction saw accidents include the following:
Contractors or sub-contractors — If a construction worker was working with any kind of negligent party with a different employer, then this person could potentially be found financially responsible for the saw or cutting blade injury incurred by the employee. Some of the more common examples of this type of negligence include removing safety guards, engaging in horseplay, leaving dangerous machinery unattended, not performing proper maintenance and failing to adhere to all established safety regulations.
Independent safety inspectors — The Occupational Safety and Health Administration (OSHA) has established requirements that all power tools be equipped with adequate safety guards, all machinery be maintained for proper working conditions, and that all heavy machinery operators be trained before conducting any type of cutting or sawing activities. There are certain instances in which an employer may have relied upon negligent advice from an OSHA inspector, and in these cases, the inspector could potentially be held liable for failing to identify specific hazards.
Saw manufacturers — There are many instances in which a defective saw instigates an injury, and in these situations, it's possible to file a product liability claim against the saw or cutting blade manufacturer. Many times the grounds for these lawsuits include flawed design, inadequate testing, poor manufacturing methods, or a failure to adequately warn users of the dangers posed by the device.
Contact a New York Personal Injury Lawyer Today
If you or a loved one has been hurt in any kind of cutting blade or saw accidents, the experienced New York personal injury lawyers at Siler & Ingber, LLP can assist you in holding the proper party responsible for things like your medical care, lost wages, pain and suffering, permanent disabilities and much more. Contact us online or call us at 516.294.2666 to schedule a free consultation today.