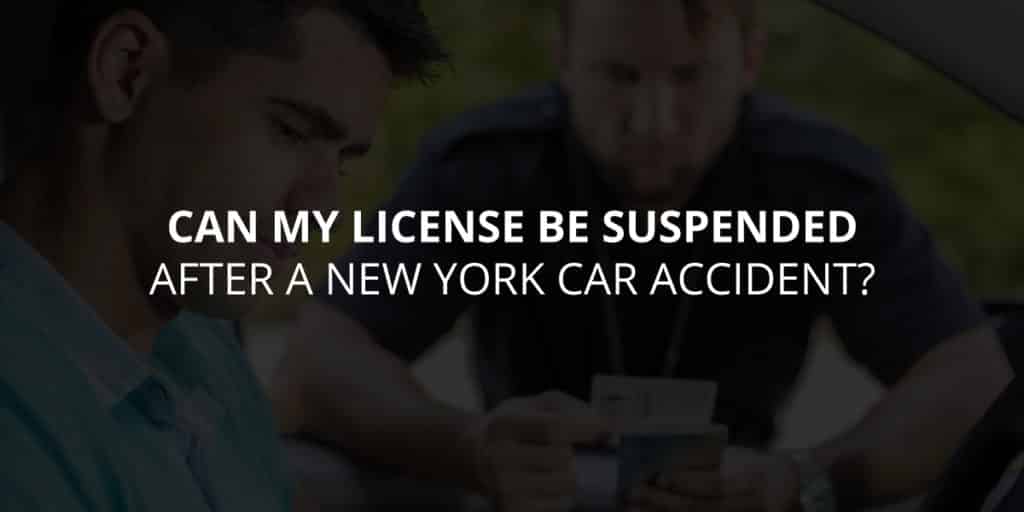 When it comes to license suspensions after a New York car accident, there are countless suspensions that go by unnoticed by many innocent citizens. There's no doubt about it that an individual's license will be suspended if they are found to be at fault for a hit-and-run accident, or any fatal collision, but even law-abiding New Yorkers will unknowingly have their licenses suspended after even rather minor car accidents.
On this page, we're going to go over what all New York drivers should do immediately after they're involved in an auto collision of any kind, and the common scenarios that lead to license suspensions after car accidents in New York.
Contact us today for a free case review so we can better determine your best course of legal action towards getting your license reinstated.
What to do at the scene of the car accident
First and foremost, you must always stop when you're involved in any kind of collision, even if it's rather minor. New York's traffic accident laws always require drivers to stop their vehicles and remain at the accident scene in order to exchange information and obtain any necessary assistance in the case of injuries or severe property damage.
Leaving the scene of an accident without the consent of all parties, and/or without going through the necessary steps of verifying information with all parties, can result in hit and run charges which definitely will result in a suspended license on top of many other severe penalties.
What information do you need to obtain at a car accident scene?
There are always going to be extenuated circumstances when it comes to obtaining all the necessary information at a car accident scene, because after all if you're injured you should always remain still until the ambulance arrives!
But if you aren't severely injured you should be prepared to exchange a good amount of personal information with all the other involved parties. This information includes things like:
Your name and driver's license number/picture

Your vehicle's VIN number

The car owner's name and address

Your insurance policy number

Your insurance company's contact information
It's also very important that you do your due diligence in terms of ensuring that the investigating police officers adequately record the necessary insurance information for the involved parties, and some other contact information you will want includes:
The other car owner's contact, vehicle and insurance information

The contact and insurance information for the passengers in the other vehicle(s)

The contact information for any

witnesses

to the accident
Reporting the Car Accident to the DMV
One of the most common ways that New Yorkers get their licenses suspended after a car accident is the fact that they failed to properly file a MV-104 report form with the DMV. The MV-104 form is always mandatory for each party to fill out when property damage exceeds $1,000 in any given collision, or if anyone is seriously injured or killed.
This report has to be returned to the DMV within 10 days of the accident, so it's important that you don't wait to fill this out!
What happens so often is that drivers fail to fill out this form and then have their license suspended even unknowingly, which can lead to much more serious legal consequences if you're pulled over with a suspended license.
So even if you don't commit any serious crimes within the circumstances of your car accident, it doesn't mean that you'll ultimately be exempt from having your license suspended! 
Other Causes of a Suspended License
The following are some of the more common ways in which New York drivers undergo a suspended driver's license:
Driving without proper insurance

DWI/DUI

2

DWAI

charges within 5 years of each other

Having 11+ points on your driving record

Abandoning your vehicle on a highway

Fleeing police

Being at-fault within any kind of fatal collision

Hit and run

Racing/Unauthorized willing speed competition

Reckless driving

Receiving 3 speeding tickets within an 18-month period
There are also some non-moving violations that lead to license suspensions, including the following:
Failing to file an accident report

Failing to pay child support

Failing to comply with any given Court Judgment

Failure to pay/respond to a New York Traffic Ticket

Failing to appear for a court appearance
Getting Your License Reinstated
There are many instances in which getting your license reinstated only requires paying a fine or fee, but there are also countless situations in which you'll undoubtedly need experienced legal support to assist you with the negotiations and certain conditions that go with your reinstatement.
There are many instances in which we'll be able to help you reduce any fees, and even fight the reasoning behind why your license got suspended in the first place. When your license is revoked you'll definitely need an attorney's aid to get reinstated, and although suspensions are less serious than revocations it is still necessary to get legal assistance.
Contact Our Team of Experienced Long Island Car Accident Attorneys for a Free Case Evaluation
There's no denying how stressful it is to be involved in a car accident, and dealing with injuries and liability issues on your own is an unnecessary endeavor that will ultimately leave you in an even tighter legal situation.
If you or a family member finds themselves in a situation in which a license has been suspended after a car accident, the best thing you can do is contact us for a free case review. 
When we have a thorough understanding as to what happened at the scene of your car accident, we'll be able to help you devise your best legal strategy towards reinstating your driver's license and helping you obtain any rightful compensation if it's legally possible.