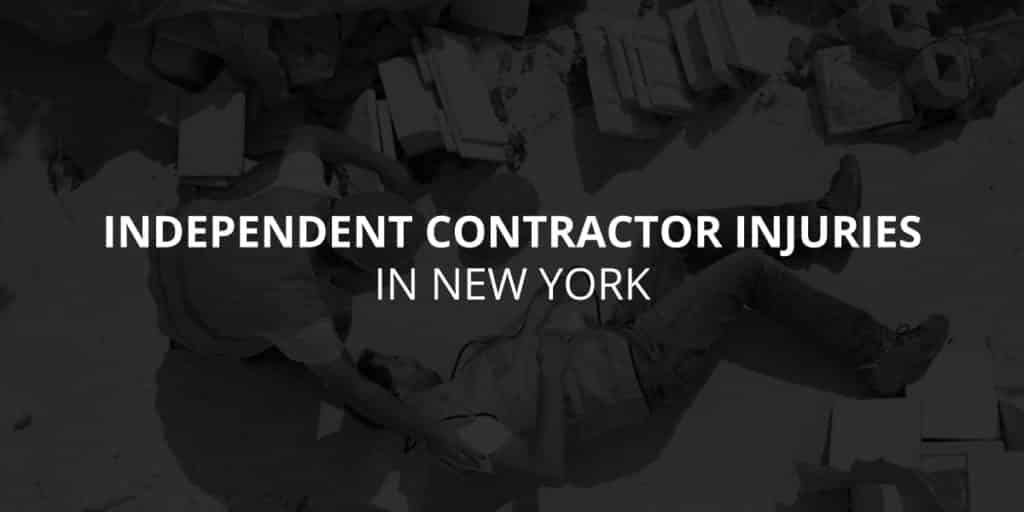 If you're an independent contractor in New York then you have a good understanding as to how things tend to go wrong on the job, even when you scrupulously plan out every specific detail. Human error, faulty materials, and countless other factors can lead to accidents and subsequent injuries while on the job, which is why independent contractors should more than likely have their own customized insurance.
The New York workers' compensation board has even publicly stated that "Independent contractors may be required to maintain their own workers' compensation insurance policy if they intend to work for other businesses."
It's an unfortunate reality within New York that employers are not required to have a workers' compensation plan for independent contractors, and that independent contractors, in general, are not covered by the ubiquitous workers' compensation that construction company employees and employees everywhere are accustomed to.
So, what is your recourse if you're injured on a New York construction site as an independent contractor? It's important for all independent contractors in New York to know the risks they take and their rights if they're injured on the job, and in this article, we're going to discuss workers' compensation for independent contractors, independent contractors' rights to an injury lawsuit, independent contractor insurance, and licensing laws.
But no matter what, you're going to need the assistance of a workplace injury lawyer if you're a New York independent contractor who's been injured on the job. Our team of attorneys is always here for you, so always feel free to contact us for a free case review so we can get the necessary information we need to begin putting your case into action.
How is an Independent Contractor Defined?
In New York, an independent contractor is defined as someone who provides goods or services to another under contractual terms or a verbal agreement while typically utilizing their own resources, tools and general processes. Independent contractors don't necessarily work for an employer, but rather when any specific employer needs them, which subjects independent contractors to laws of agency.
When Will Workers' Compensation Benefits be Awarded in New York?
Within most cases in which an independent contractor is actually covered through workers' compensation, this may be the contractor's only compensation option. The independent contractor will also not be legally required to prove that their injury was caused by anyone else's negligent acts when utilizing workers' compensation. Under these circumstances, an independent contractor will only need to prove that their injury occurred while working on the job within any capacity.
There are some situations in which an injured independent contractor who's covered by workers' compensation could pursue a personal injury lawsuit that is separate from their workers' compensation benefits. This is because employers aren't always at fault for construction and general on-job injuries. There are third parties like delivery drivers, vendors, other independent contractors, engineers, equipment manufacturers, architects and so many other potential parties that could share some of the liability in terms of how a specific independent contractor injury occurs.
Filing an Injury Lawsuit
When any third party's negligence leads to a workplace injury, there can be grounds for an independent contractor to file a personal injury lawsuit against that third party or their employer.
This is partly why it's so important for independent contractors to always get their injuries examined as quickly as possible by a healthcare provider, and then reach out to a personal injury attorney to discuss what their legal options are. Some general contractors on larger construction projects will have their own liability insurance that covers independent contractors, while other contractors may require independent contractors to carry their own insurance policies.
This is part of the reason why it's so important, especially on smaller projects, for homeowners and other contractors to only higher independent contractors who can show proof of personal liability insurance.
How Do You Get Independent Contractor Insurance in New York?
Independent contractor insurance will cover you for any type of damages and general payments that you ultimately cause, and this type of insurance is so crucial because independent contractors are typically not covered by any company's insurance.
There are generally two options in terms of obtaining insurance coverage, including:
Being added to a general contractor's General Liability policy, which essentially will mean that you'll be covered by the contractor's insurance while performing a specific job for that team.
Obtaining your own General Liability insurance policy. All you'll need to do in this type of situation is make sure it's properly added into your contract so the business you're temporarily working for understands you're covered.
How Do Licensing Laws Impact Personal Injury Claims?
Licenses or permits may always be required depending on the type of project an independent contractor is working within, but it will almost always be difficult for unlicensed, noncompliant independent contractors to recover compensation after an injury.
There are different permitting and licensing regulations throughout New York, so you are going to want to have one of our attorneys help explain how specific licensing rules may affect your specific situation. There are always going to be a variety of ways in which an independent contractor can be compensated, or left without any compensation at all.
Typically, this will always come down to the applicable insurance policies, or lack thereof, in terms of determining what happens and whether or not an independent contractor will be financially supported or not. This is why we always will recommend that independent contractors carry their own liability insurance.
Were You Injured Doing Independent Contractor Work in New York? Contact Us Today for a Free Consultation!
The experienced team at Siler & Ingber, LLP are always here to help you determine your best course of legal action in the case of workplace injuries, and we'll help you better understand if your specific situation qualifies for a personal injury claim. Contact us online for a free case evaluation where we'll answer all your questions and provide our expert legal advice, or call us directly at (516) 294-2666.