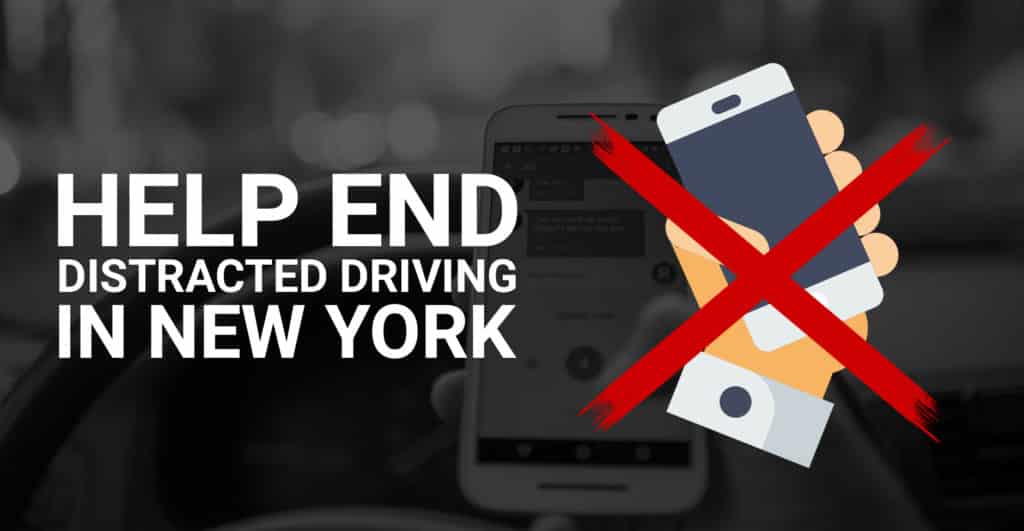 In the United States, nine people are killed and 100 are injured every day from distracted driving-related accidents according to the National Safety Council (NSC). To spread awareness and help reduce the number of distracted drivers on our roads, April has been dubbed Distracted Driving Awareness Month. This united front by safety organizations and administrations nationwide was created to educate motorists on how to decrease the number of unnecessary accidents by recognizing their own distractive behaviors behind the wheel and encouraging others around them to drive alert.
Distractions On Long Island
Drivers on Long Island are just as guilty as the rest of the country when it comes to driving distracted. According to an article published by Long Island Streets, preliminary data from 2017 showed over 48,729 accidents, 147 fatalities, and 20,141 injuries were the result of distracted driving crashes in both Nassau and Suffolk Counties. Here is how the numbers broke down:
Nassau County
24,582 total accidents
58 fatalities
10,054 resulting in personal injuries
14,470resulting in property damage
Suffolk County
24,147 total accidents
89 fatalities
10,087 resulting in personal injuries
13,971 resulting in property damage
The most common factors leading to distracted driving accidents in both counties included driver inattention/distraction, view obstructions, falling asleep, fatigued/drowsy, passenger distraction, outside distraction, and cell phone use. However, not all of these figures are an accurate representation of what was actually distracting a driver during an accident.  In the case of accidents categorized under driver inattention/distraction, these drivers could have been using a cell phone or other electronic device directly before a crash but did not disclose this information to avoid heftier penalties.
Three Types of Distracted Drivers
There is an endless number of distractions that can take a driver's attention off the road, but not all of them affect us in the same way. Esurance recognizes three different types of driving distractions that can equally put the lives of others at risk:
Visual Distractions– These distractions occur when a driver physically takes their eyes away from the road to look at something in or outside of the car. Looking at electronic devices, cell phones, GPS's, or passengers all fit under this category.
Cognitive Distractions– These distractions occur when a driver is mentally focused on something other than driving. This could include talking with a passenger, thinking about work, or listening intently to a radio program or audiobook.
Manual Distractions– These distractions involve a driver taking their hands off the wheel. Eating, putting on makeup, reaching for items, or putting coordinates in a GPS are all manual distractions.
Texting is by far one of the most dangerous road behaviors because it involves all three types of distractions: you are looking at the phone, you are thinking about what you are texting, and you are taking your hand(s) off the wheel to type in your text.
Tech Savvy Ways to Reduce Distractions
Advancements in technology have significantly contributed to the increase in distracted driving. Some companies, however, are also using technology to help combat this deadly trend. According to Consumer Reports, these features and apps may help reduce the number of preventable accidents involving cell phone use behind the wheel:
Cellular Provider Driving Apps: AT&T, Sprint, and Verizon all offer different features to help reduce driver distractions involving the phone. These apps limit user activity and hold calls and messages when the driving modes are activated.
Phone Specific Features: Apple and Samsung phones both come with additions to their latest operating systems that include Do Not Disturb While Driving modes. These modes even send automatic replies to others who send messages or call while you are driving.
CellControl DriveID: This device works by mounting to the windshield and connecting to your phone wirelessly through an app. The device will detect when the car is moving and block drivers from receiving and sending text messages- it also monitors accelerations, speed, and braking patterns!
ly and Drivemode: To reduce the number of people glancing down at their phones, these apps help by reading the messages and email's aloud. Drivemode also works with other apps to make navigating and programming music safer in the car.
Drive Safe Mode: Parents love this app because they can see when their teen is not following the rules. This app alerts them as soon as their teen begins texting or browsing social media while the car is in motion.
The Siler & Ingber Distracted Driving Awareness Pledge
Our team at Siler & Ingber is dedicated to reducing the number of unnecessary fatalities and injuries on the road caused by careless acts of distracted driving. To show our commitment, we have created a pledge our entire team will be following for the month of April. We invite you to join us in taking the pledge as well, so that we can make New York roads safer together.
Sign the Pledge
In honor of Distracted Driving Awareness Month, I refuse to drive distracted in any way, shape, or form. I pledge to:
Place my cellphone and all other electronic devices out of reach while behind the wheel
Avoid participating in distractions such as watching a video, playing games, engaging on social media, taking photos or videos, and texting while behind the wheel
Postpone any calls, even via a hands-free or Bluetooth device, until after the drive
Wait to call or message someone I know is driving until after I believe they have arrived at their destination
Avoid calling others as a passenger in a vehicle to avoid distracting the driver
Encourage friends and family to avoid distracted driving as well
Invite everyone in my circle to join me in taking the pledge
Every individual that signs the pledge will be recognized and thanked on Siler & Ingber, LLP's Facebook Page. 
[gravityform id ="19″ title="false" description="false"]
Drive Safe To Save Lives
Cell phones are not the only risk of distracting motorists on Long Island. All drivers on the road should be practicing these safe driving behaviors whenever behind the wheel:
Eat before you drive;
Never reach for items while the car is in motion;
Limit the noise in your car so you are able to focus;
Never use electronic devices while driving;
Input GPS coordinates into your device before you start driving;
Control your passengers by limiting the number and setting rules for behaviors in the car; and
Keep your speed low for better reaction times to hazards on the road.
Long Island and NYC Motor Vehicle Accident Attorneys
Distracted driving accidents are unnecessary and entirely preventable. If you or a loved one has been injured in a traffic accident caused by a distracted driver, the law firm of Siler & Ingber is here to support your rights to safe roads. Call our team of New York City bicycle accident attorneys at 877-718-6079 for a free consultation, or reach out online anytime to discuss your case today.