Siler & Ingber Opioid Awareness Scholarship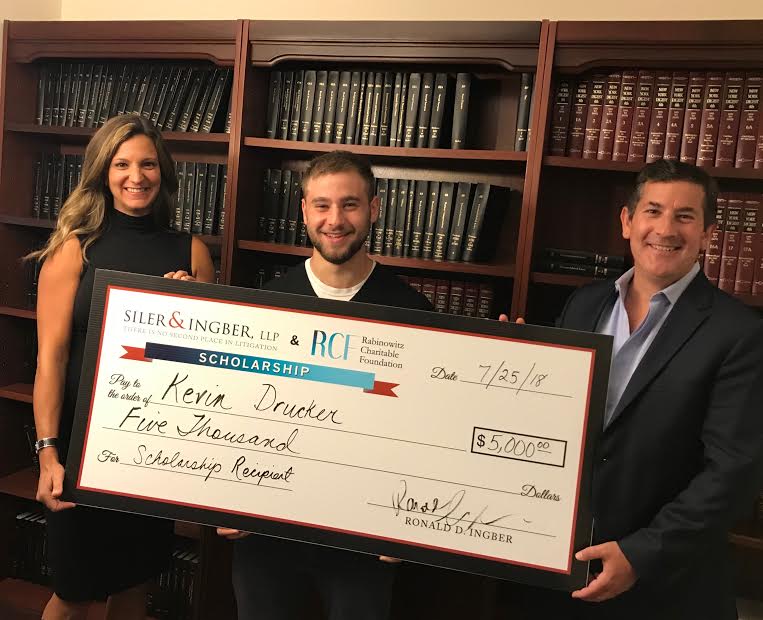 Kevin Drucker, a 2018 graduate of Bethpage Senior High School, is the winner of the $5,000 Opioid Awareness Scholarship sponsored by Siler & Ingber, LLP in partnership with Rabinowitz Charitable Foundation (RCF). Opioid deaths have been rising at epidemic proportions for the last two decades. More people died from an opioid overdose in Nassau and Suffolk counties in 2017 than ever before with Suffolk County leading the state death toll with 600 fatalities last year. Hundreds of Long Island high school students opened their hearts for a chance to win this scholarship, sharing tragic and triumphant stories of how opioid abuse has affected their lives, as well as their determined plans on how they can use the scholarship funds to make a difference.
In his essay, Drucker shares personal examples of how opioid abuse impacted his family. "Kevin's ability to overcome the challenges of family opioid abuse is inspiring," says Ronald Ingber, partner at Siler & Ingber, LLP. "His strength and drive to push through childhood adversity makes him a deserving candidate for the Opioid Awareness Scholarship and we look forward to seeing what amazing work he does in the future."
Drucker plans to use his scholarship to attend SUNY Buffalo State, with interest in business management, marketing, economics, and investments.
"The Rabinowitz Charitable Foundation is proud to have aligned with Siler & Ingber, LLP to support Kevin Drucker in furthering his education and shedding light on this serious epidemic," says Michelle-Lee Rabinowitz, president of The Rabinowitz Charitable Foundation (RCF).
As one of the leading personal injury firms on Long Island and community safety advocates, Siler & Ingber, LLP has a 98 percent success rate when it comes to fighting for the rights of their clients. With over 20 years of experience in personal injury litigation, Siler & Ingber LLP has a winning record of seeking justice for unnecessary and preventable injuries on Long Island and in New York City.