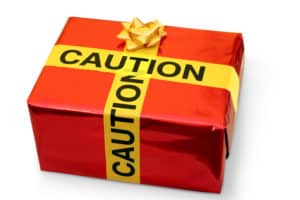 One child is treated in the emergency room in the United States every three minutes for a toy-related injury. While some of these injuries can be the result of sibling brawls and random accidents, others are caused by toys that are known to be harmful, manufactured without the safety of children in mind.
Not All Toys Are Safe!
Even though toys are made for kids, not all manufacturers take the time to make their products safe. The non-profit organization World Against Toys Causing Harm (WATCH) released their '10 Worst Toys' list for the 2018 winter season this week, just in time for Black Friday and Cyber Monday shoppers. Parents and anyone looking to buy toys for their loved ones should stay clear of these toys or similar items to help avoid unnecessary illnesses and injuries that could ruin your holiday spirit this year.
10 Worst Toys of 2018
NICKELODEON NELLA PRINCESS KNIGHT PILLOW PETS SLEEPTIME LITES
This unicorn light is marketed towards infants as a soft, plush pillow that also serves as a fun nightlight for a crib. But not only does this toy pose a risk of battery-related injuries in the case of an acid leak, but Nella is made with small heart and flower decorations that could be easily swallowed by children if removed.
NERF VORTEX VTX PRAXIS BLASTER
This toy gun is hazardous regardless of who is operating it due to its forceful launch of 10 discs in a row that could lead to serious face and eye injuries. However, WATCH finds this toy particularly dangerous because it's marketed towards children as young as 8-years-old, who may not understand the danger of firing the gun within close range of others.
MARVEL BLACK PANTHER SLASH CLAW
These toy plastic claws are hard, rigid, and marketed to children as young as five-years-old. They come with a written advisory not to 'hit or swing at people' due to a risk of serious face or eye injuries- not a very realistic request for a five-year-old. Pieces can also break apart posing a choking hazard to children with habits of placing objects in their mouth.
POWER RANGERS SUPER NINJA STEEL SUPERSTAR BLADE
Manufacturers of this toy expect children as young as four-years-old to play with this spring-loaded, hard plastic blade without 1) aiming it at anyone, 2) hitting anyone, 3) poking anyone, and/or 4) swinging at anyone according to package warnings. Any of these actions towards another person could cause facial and impact injuries due to the sword's design.
CABBAGE PATCH KID DANCE TIME DOLL
The hair band on this fancy dance doll is extremely fashionable, but not very safe for the toddlers they are marketed towards. This headband can be removed and poses a choking hazard if a child were to ingest the accessory.
ZOO JAMX XYLOPHONE
This musical toy is made for young children between 1-1/2 to 4-years-old, yet contains a harmful component that could lead to terrifying injuries and fatalities. The drumstick handle is rigid, slender, and measures at 9-inches in length, which is long enough for a child to swallow and choke on.
NICA WONDERLAND DOLL- MINICLARA THE BALLERINA
Toddlers may love this ballerina doll, but parents should beware. Miniclara comes with a plush and detachable pet friend named 'little kitten' who could cause a child to choke if they decide to chew on it.
STOMP ROCKET ULTRA ROCKET
This toy is desirable for children who love to watch rockets fly up to 200 feet high. The running and jumping feature, however, could be extremely harmful to kids who have not lined up the toy correctly and end up shooting the rocket forcefully into their eyes or face.
CUTTING FRUIT
Toddlers love to pretend to be like their parents, including copying everyday tasks such as cooking and cleaning. This set allows kids as young as two-years-old to pretend to cut their fruit just like mom or dad but contains a knife that has the potential to cause blunt trauma injuries and puncture wounds.
JANOD PULL ALONG DOG
This pull toy is infuriating to safety officials as it clearly violates industry standards. While the standard for crib toys is that strings be created less than 12 inches, this toy has a 19-inch long string that could put children at risk of strangling themselves.
Shop Safe Long Island
These toys are not the only ones on the market posing an injury risk to your children this season. Parents, do your research before buying any toys for your children this holiday to ensure they do not have a known history of recalls or causing injuries and illnesses. It's also important to take age recommendations on toys seriously to avoid young children from injuring themselves playing with toys meant for older kids.
If your child has been seriously injured in a toy-related accident caused by dangerous products, our expert team of personal injury attorneys is here to help. Contact the law firm of Siler & Ingber at 1-877-LAW-4343 for a free case evaluation to explore your options for seeking justice.